Let's break down

the numbers
Navigating the complexities of tuition, budgeting, housing and financial aid can quickly get overwhelming. Here is all the information you need to calculate costs, apply for assistance and keep track of fees and financial aid awards.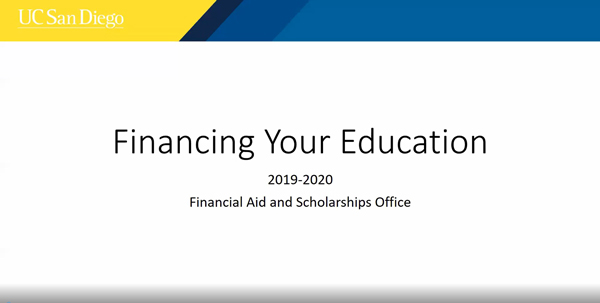 Financial Aid and Scholarships
This webinar covers all the options and resources available to help you pay for college, presented by a UC San Diego Financial Aid Officer.
Make sure you're covered
Everything you need to know about tuition, budgeting and overall costs to attend UC San Diego as a California resident or out-of-state student.
You bring the will. We'll help with the way.
Every student with a bright mind and a burning desire to learn deserves the opportunity to experiment and explore at UC San Diego. Please note: Students from other U.S. states are not eligible for California financial aid, however the University of California will help out-of-state students receive federal aid for which they are eligible. International students are not eligible to receive federal or state financial aid. To be granted a visa, international students must prove sufficient funds to meet all estimated expenses for studying in the U.S.