Invite UC San Diego
Ask UC San Diego to attend your college fair or present at your high school, community college, or community based organization. You can direct questions to requestschoolvisit@ucsd.edu.
Counselors! Are you meeting with a student right now and need fast access to important information about UC San Diego? We want to help.
New & Capped Majors
New Majors
Education Science
World Literature and Culture
Business Psychology
International Studies: Philosophy
Political Science: Data Analytics
Capped Majors
On the UC Application, students should indicate their desired major. If it is on this list, they should also indicate an alternate major.
Biological Sciences (all majors)
Data Science
Economics
Engineering (all majors)
Mathematics
Physics
Public Health
Visit catalog.ucsd.edu to see the complete list of majors.
Application Personal Insight Questions
First-Year
Must answer 4 out of 8 questions
Each answer limited to 350 word maximum
Transfers
Must answer 1 required question
Must also answer 3 out of 7 additional questions
Each answer limited to 350 word maximum
For full details, visit: Personal insight questions
Application Portfolio Review
First-Year and Transfer applicants may be asked to submit an optional supplemental application and/or a portfolio/audition video for faculty review, when applying to these majors:
Music

Interdisciplinary Computing and the Arts
Music
Music Humanities

Theatre & Dance
Visual Arts

Art History
Interdisciplinary Computing and the Arts
Media
Speculative Design
Studio
Visit First-Year Requirements or Transfer Requirements for full details.
Application Transfer Major Prep
Applicants to the following departments and the Jacobs School of Engineering must complete minimum coursework to be admitted into the major. Students will be screened for the number of courses completed, the grades earned in those courses and cumulative GPA.
Biological Sciences
Chemistry & Biochemistry
Cognitive Science
Economics
Engineering
Mathematics
Physics
Psychology
Visit Transfer Major Preparation for full details.
Campus Growth
Campus approved plans for the largest building project to date: 10-acre North Torrey Pines Living and Learning Neighborhood will include academic, residential, commercial and cultural spaces.
First Year Experience
Each UC San Diego college offers 2-unit First Year Experience courses for first-year and transfer students. These courses address challenges students often face transitioning from high school and community college to a large research university. Faculty lead weekly lectures and undergraduate leaders host smaller discussions. Students gain: effective research and study skills, stronger time management skills, enhanced communication skills, more confidence interacting with faculty, and much more.
Co-Curricular Record
UC San Diego's Co-Curricular Record (CCR) is the first tool of its kind in higher education, highlighting student achievements in opportunities beyond the classroom. The CCR provides students with a brief description of their accomplishments and the skills they developed during their undergraduate years. It is validated by the registrar and helps students with their job search by making connections between academic skills learned and marketable competencies, "soft skills," which students have developed and demonstrated in and out of the classroom.
2018 Admission Snapshots First-Year
Admit Ranges & Averages (based on Fall 2018 admitted class)

GPA avg

4.13

ACT avg

31.7

SAT Reading avg

629

SAT Mathematics avg

697

SAT Writing avg

644
2018 Admission Snapshots Transfer
Admit Ranges & Averages (based on Fall 2018 admitted class)

GPA avg

3.59
Resources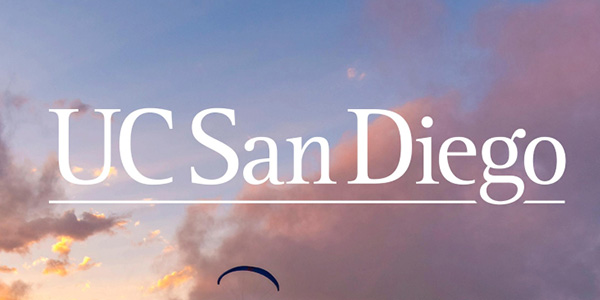 UC San Diego Viewbook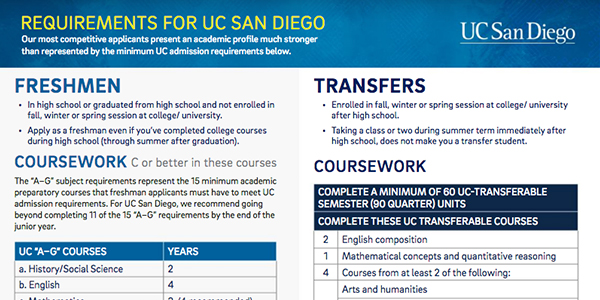 Minimum requirements for applying to UC San Diego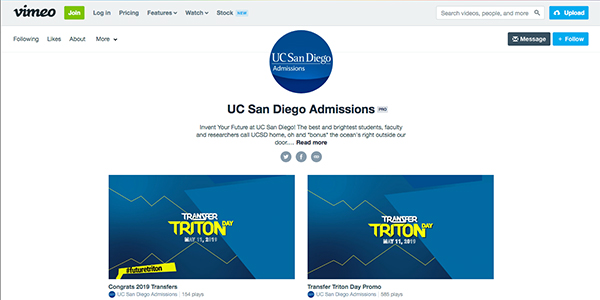 Expore our video channel on vimeo
Counselor Contact List
Loading...