Ask UC San Diego to participate in your virtual college fair or a virtual presentation at your high school, community college, or community based organization. You can direct questions to requestschoolvisit@ucsd.edu.
UC is committed to ensuring that COVID-19-related academic disruptions don't threaten any students' ability to strive for and attain a UC education.
Testing Update
UC San Diego will not consider SAT or ACT test scores as a factor in admissions decisions.
Counselor Past Event Recordings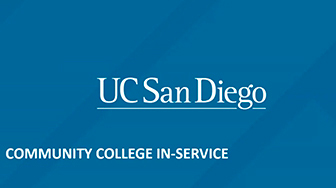 As part of UC San Diego's National Transfer Student Week programming, the Office of Admissions presents our annual California Community College Counselor In-Service Training, including information surrounding transfer admissions.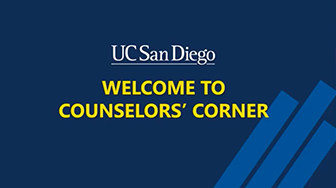 In this Counselors' Corner, discover UC San Diego's unique undergraduate College System, including an overview of each college, tips for ranking the colleges on the UC Application and a Q&A with Admissions Officers.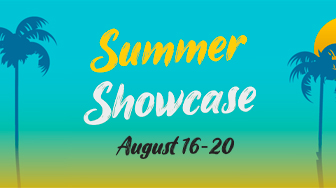 We hope you enjoyed learning about UC San Diego during the Virtual Summer Showcase! View recordings from the event highlighting the UC application, our unique college system, student support services, academic divisions, and more!
Counselor Contact List
Loading...
Interested in learning more about life at UC San Diego? Get a glimpse into our top-notch academics, cutting-edge research, exciting student life and more in our viewbook. This digital version features videos, pop-out interviews and other interactive content.
Please note: this digital viewbook is optimized for viewing on a laptop or desktop.
A non-interactive version is available as well.
Interactive Content
Look for these items for additional content:

New & Capped Majors
New Majors
Majors with Capped Status – For All Students
On the UC Application, students should indicate their desired major. If it is on this list, they should also indicate an alternate major.
Jacobs School of Engineering – all majors in these departments:

Note: A capped major is not the same as a major requiring pre-major status.
Transfer Major Preparation
Applicants to the following departments and the Jacobs School of Engineering must complete minimum coursework to be admitted into the major. Students will be screened for the number of courses completed, the grades earned in those courses and cumulative GPA.
Biological Sciences
Chemistry and Biochemistry
Data Science
Economics
Engineering
Marine Biology
Mathematics
Physics
Psychology
Rady School of Management (for Business Economics)
Personal Insight Questions
First-Year
Must answer 4 out of 8 questions
Each answer limited to 350 word maximum
First-Year Personal Insight Questions
Transfers
Must answer 1 required question
Must also answer 3 out of 7 additional questions
Each answer limited to 350 word maximum
Portfolio Review
First-Year and Transfer applicants may be asked to submit an optional supplemental application and/or a portfolio/audition video for faculty review, when applying to these majors:
Music

Interdisciplinary Computing and the Arts
Music
Music Humanities

Theatre & Dance
Visual Arts

Art History
Interdisciplinary Computing and the Arts
Media
Speculative Design
Studio
College System
UC San Diego is excited to welcome Seventh College as the newest addition to our unique College System. The college's philosophy focuses on Interdisciplinary explorations of our changing planet. At Seventh College, students will develop skills for impactful, responsible engagement and will use this breadth of knowledge to augment their studies and offer real-world solutions. Transfer students will begin enrolling Fall 2022.
First Year Experience
Each UC San Diego college offers 2-unit First Year Experience courses for first-year and transfer students. These courses address challenges students often face transitioning from high school and community college to a large research university. Faculty lead weekly lectures and undergraduate leaders host smaller discussions. Students gain: effective research and study skills, stronger time management skills, enhanced communication skills, more confidence interacting with faculty, and much more.
Co-Curricular Record
UC San Diego's Co-Curricular Record (CCR) is the first tool of its kind in higher education, highlighting student achievements in opportunities beyond the classroom. The CCR provides students with a brief description of their accomplishments and the skills they developed during their undergraduate years. It is validated by the registrar and helps students with their job search by making connections between academic skills learned and marketable competencies, "soft skills," which students have developed and demonstrated in and out of the classroom.
Admissions Snapshot
First-Year
UC San Diego will not consider SAT or ACT test scores as a factor in admissions decisions.
Admit Ranges (based on Fall 2022 admitted class)

GPA

4.12-4.30

Average Honors/AP/IB/College Courses

21.2

Average A-G Course Totals

53.3
Admissions Snapshot
Transfer
The ranges shown reflect the middle 50% of our Fall 2022 admitted transfer students. Among this pool of admitted transfer students, 25% also had a GPA higher than the range posted here, and 25% had lower.
Admit Ranges (based on Fall 2022 admitted class)

GPA

3.48-3.91