First-Year Student

Application Requirements
As a first-year applicant, you must earn a high school diploma (or equivalent) and satisfy the following UC admission requirements:
Subject Requirement
Scholarship Requirement
Examination Requirement
Personal Insight Questions
Portfolio Review (optional for Arts majors)
Competition for admission is high, so meeting these requirements does not guarantee your admission. Students admitted to UC San Diego exceed minimum UC admission requirements.
College Ranking
You will be asked to rank the UC San Diego colleges on your UC Application. Learn more about the colleges and get guidance on how to rank them.
Coursework
Subject Requirements
To be eligible for admission to UC San Diego, you must complete UC College preparatory courses (A-G courses) in the subjects below and earn a "C" grade or better. Complete at least 11 of the 15 courses before your senior year of high school.
"a-g" Courses
Years
a. History/social science
2
b. English
4
c. Mathematics
3 (4 recommended)
d. Laboratory science
2 (3 recommended)
e. Language other than English
   (or other second language)
2 (3 recommended)
f. Visual and performing arts
1
g. College preparatory elective
1 
California residents: courses must be on your high school's UC-approved course list.
Non-California residents: there is no pre-approved course list for schools outside of California.
International applicants: learn more on the International Students page.
GPA (Grade-Point Average) Requirement
To be eligible for admission to UC San Diego, you must earn the following minimum GPAs:
California residents must earn a GPA of 3.0 (or better) with no grade lower than "C."
Non-California residents & International applicants must earn a GPA of 3.4 (or better) with no grade lower than "C."
Your GPA is based on the above "a-g" courses taken during 10th and 11th grades. Students admitted to UC San Diego have GPAs that exceed these minimums.
Exams
These are the tests you must complete to be eligible for admission to UC San Diego. You must take all tests by December of your senior year (the year before you plan to enroll). Only your highest scores from a single sitting will be considered. When you report your ACT or SAT scores to one UC campus, they will be shared with every UC campus to which you have applied. If you are applying for the fall term, you must submit your official test scores no later than January.
You must submit scores from either:
ACT Plus Writing -OR-
SAT Reasoning Test with critical reading, math and writing. Your scores must be from same sitting. (see below for further information on SAT exam)
For prospective engineering, biological or physical sciences majors:
We recommend that you submit scores from 2 SAT Subject Tests closely related to your major. If you are taking a math subject test, Math Level 2 is required.
Advanced Placement, International Baccalaureate Tests
If you complete Advanced Placement courses, we recommend that you complete the related AP examination to demonstrate subject mastery. Similarly, International Baccalaureate scores can be used to showcase academic mastery. To receive unit credit toward the baccalaureate degree, you must submit an official copy of your AP or IB scores directly from the testing agency. This can be done in the summer following your high school graduation. Other entrance exams taken after high school graduation are not considered.
International Students
If your native language is not English and your secondary/high school education was in a country where English is not the language of instruction, you must take the Test of English as a Foreign Language (TOEFL) or the International English Language Testing System (IELTS) examination (academic modules) and have your scores reported to the UC San Diego Office of Admissions. A minimum score of 83 is required for the TOEFL, or a minimum score of 7 is required for the IELTS. Learn more on the International Students page.
Personal Insight Questions
This is your opportunity to tell us who you are, what's important to you and why you belong at UC San Diego by answering 4 of the 8 personal insight questions when you submit your application. We recommend selecting the questions that reveal the most about you and best reflect your experiences. All questions are given equal consideration in the application review process. There is no advantage or disadvantage to choosing one question over another. Your answers are limited to a maximum of 350 words, so make each statement count.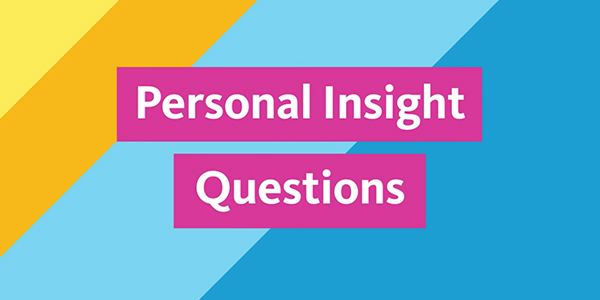 UC students and admissions staff share their best tips for writing application essays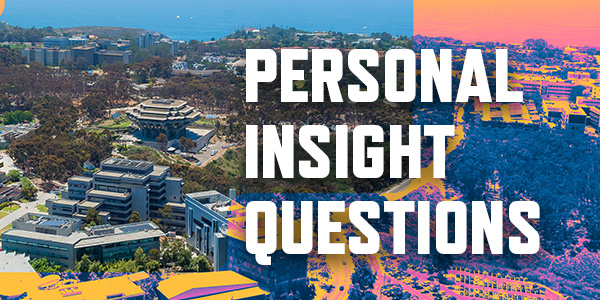 Tips and tricks for acing this important part of the UC Application
Application Information
Timeline
Learn about the important dates that you'll encounter throughout the first-year application process.
Review
Our goal is to identify and admit students who are fully prepared to excel in our challenging academic environment.