Apply Now
A first-year applicant is currently in high school or has graduated from high school but has not enrolled in a regular (non-summer) session at a college or university. If you've completed college courses during high school (through summer after graduation), you're still considered a first-year applicant.
Student profile
We're looking for fearless innovators. Bold risk-takers. Those with a compulsive urge to take things apart, discover what makes them tick and put them back together in surprising new ways. People who are eager to swap ideas, share experiences and explore the world with a fresh perspective. If that sounds like you, start building your future at UC San Diego.
The ranges shown reflect the middle 50% of our fall 2019 admitted students. Among this pool of admitted students, 25% also had a GPA or test scores higher than the range posted here, and 25% had lower.
Application Information
Requirements
As a first-year applicant, you must earn a high school diploma (or equivalent) and satisfy these requirements.
Timeline
Learn about the important dates that you'll encounter throughout the first-year application process.
Review
Our goal is to identify and admit students who are fully prepared to excel in our challenging academic environment.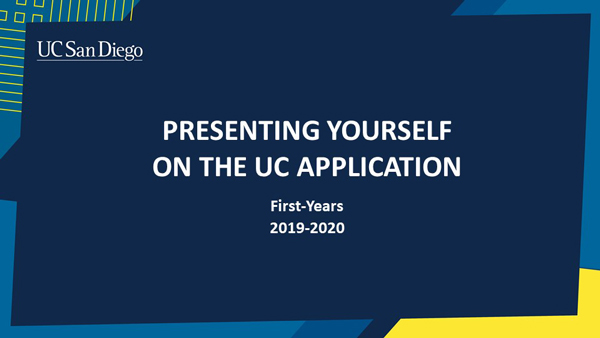 Presenting Yourself on the UC Application
Learn about applying to the University of California as a first-year applicant, including insight into the admission process and tips for successfully completing your application.
Planning Ahead
It's never too early to start planning for a successful future! Start preparing with a year-by-year roadmap to help you ensure you're on the right path for university.
International Students
International applicants must meet the same first-year requirements for admission as any other first-year applicant in addition to the international requirements.