Apply Now
A transfer applicant has been enrolled in a regular session at a college or university after high school, excluding summer sessions. UC San Diego enrolls transfer students at the junior level. 32% of our undergraduate class are transfer students: free thinkers and creative nonconformists from all over the globe who converge on our campus to shatter the limitations of "ordinary."
Student profile
We're looking for your insatiable curiosity and drive to build a better world. Many of our transfer students come from community colleges across California. Others arrive from colleges and universities across the country and around the world, ready to join a student body that thrives on challenging assumptions and overturning the status quo.
The ranges shown reflect the middle 50% of our fall 2020 admitted transfer students. Among this pool of admitted transfer students, 25% also had a GPA higher than the range posted here, and 25% had lower.
Application Information
Requirements
As a transfer applicant, you must meet minimum coursework, major preparation and specific lower-division general education requirements.
Timeline
Learn about the important dates that you'll encounter throughout the transfer application process.
Review
Our goal is to identify and admit students who are fully prepared to excel in our challenging academic environment.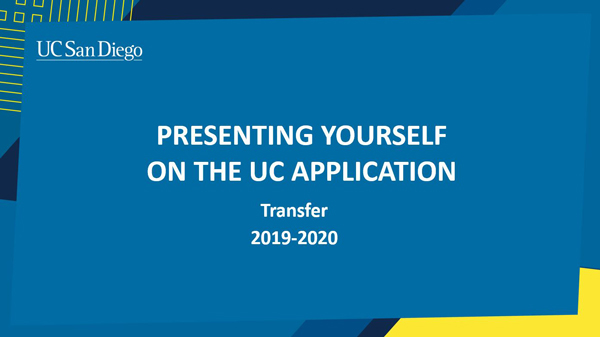 Presenting Yourself on the UC Application
Learn about applying to the University of California as a transfer applicant, including insight into the admission process and tips for successfully completing your application.
Course Transferability Guide
Here you'll find information on UC San Diego's new and updated majors for 2017-2018 and 2018-2019. Students planning to transfer to UC San Diego, effective Fall 2018 or later, can use this information as a guide to planning coursework at their respective California Community College.
Transfer Major Preparation
Students planning to transfer must complete the minimum major preparation coursework to be considered for admission into the major. Applicants for this list of departments will be screened for the number of preparatory coursework completed, the grades earned in that coursework and the cumulative GPA.
UniversityLink
UniversityLink is a pathway to a premier four-year university by way of community college. To participate in UniversityLink, you must attend one of a small group of local partner community colleges.
International Students
International applicants must meet the same transfer requirements for admission as any other transfer applicant in addition to the international requirements.
Triton Transfers
Stay updated on UC San Diego's transfer-specific events and support, including happenings within the Triton Transfer Hub!
Triton Talks
Join UC San Diego staff, students, and faculty for a variety of Triton Talk webinars! From academics to student life, learn about the various resources, programs, and opportunities you'll have at your fingertips at UC San Diego. To display and register for Triton Talk webinars, select an available date from the calendar.